Setting up a home DJ setup is certainly very exciting. But, it is one thing that requires careful planning and execution. Look at the space you are planning to set up, does it require small or elaborate equipment or does the chosen space support the DJ equipment?
Finding the perfect spot for the DJ setup is the first step and once the perfect space is found, equipment such as DJ Turntables, Mixers, Controllers, Software are bought and ready to be installed, what one needs to enhance the setup and make things roll are the best quality DJ speakers.
Ok, now everything is decided and ready, but how do you buy the best DJ speaker? With the market being flooded with a variety of models, undecipherable technical jargon, and different features and prices, it can be daunting to find that one perfect set of DJ speakers for your home.
Best DJ speakers to choose from
Speakers are an important component of a home DJ set up and you need to find the perfect pair to do justice to the mixes you have created to fill the room and emit the sounds as you have created and want it to sound like.
Choose the best DJ speakers for your home to make good on your investment, reduce distortions and reproduce crystal clear sound.  
Truvison's DJ powerhouse silver series speakers are the epitome of Clarity and versatility, and one that gives you full value for your money. A user-friendly model with no compromise on quality, these speakers are the perfect buy for your home DJ set up.
Perfect for any occasion or gathering, these speakers reproduce clear and un-distorted sounds and prevent sounds from breaking.
Experience club sound with the DJ Powerhouse Series Powered Speakers for every occasion right at your home and at pocket-friendly prices too.
The features also include 
Built-in amplifier
1Pc High-Frequency Wireless Mic
300W RMS
DSP Effect
Driver unit: (Double 10″+tweeter)x2
Frequency: 40Hz~20KHz
USB/SDMMC/FM
7 Bands Equalizer
Bass and treble adjustable
Karaoke function
2 Microphone input
Guitar Input
LED display
Priced at ₹59,990, Truvison's DJ POWERHOUSE PLATINUM SERIES powerful speakers are the best buy in 2021 with their multitude of unique features and undisputable sound quality. Perfect for every home DJ set up, the sleek black speakers provide amazing sound quality at unparalleled prices.
This model offers unique features such as 400W RMS, 40Hz~20 kHz frequency, Recording audio and Delete function, Remote Control along with regular features like LED display, Karaoke function, and USB/SDMMC/FM among others.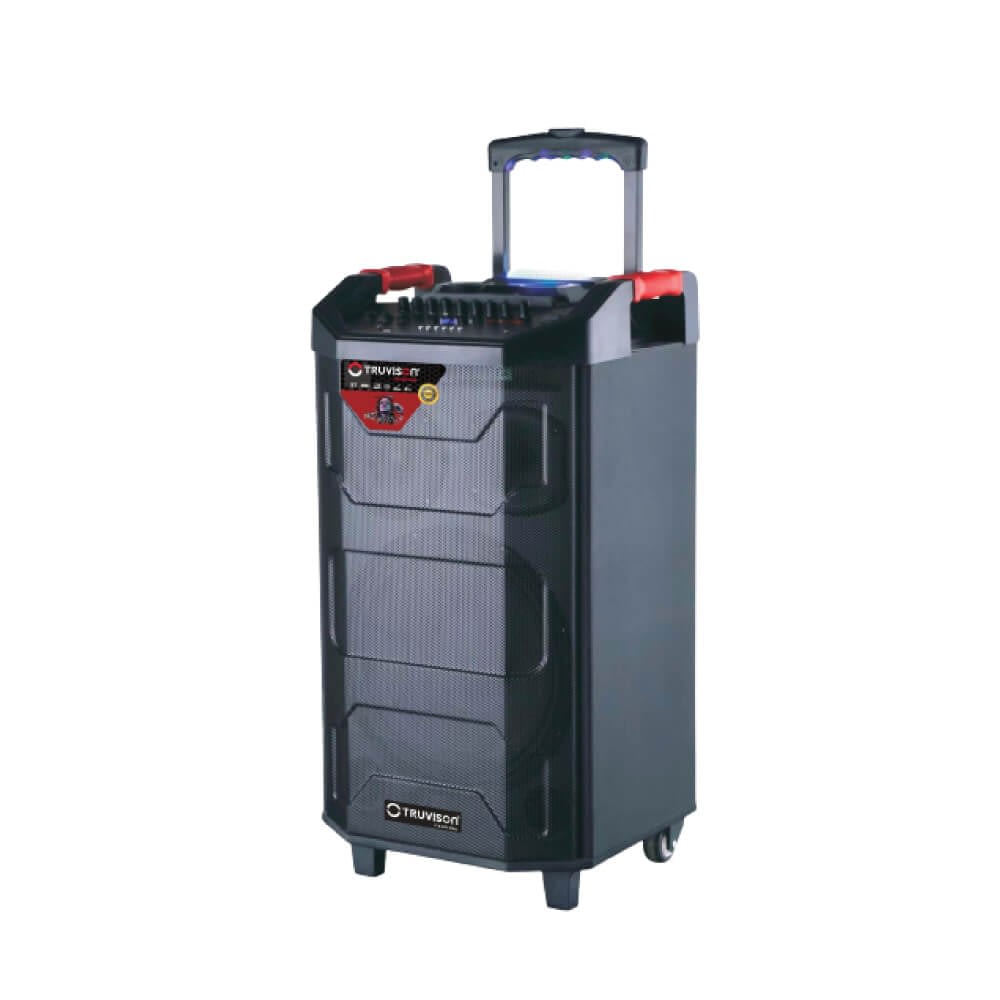 The fully wooden body with its lightweight and trolley feature the Black Beauty speakers are the perfect set of speakers to go for when you are looking for mobility and versatility in your speakers for your home DJ set up.
Economically priced at MRP ₹15,990, the speakers are a great buy with quality sound output and special features.
Special features included in the speakers are
TWS Feature
5 Hour Battery Backup
FM Function
Bluetooth Function
WIRED MIC INPUT
Optional disco light
70W – RMS
12″*1-Woofer

Sleek, smart, and effective, the speakers are designed to produce quality sounds of your mixes and music. Priced at ₹18,990, the speakers provide undisrupted sounds and mobility if you want to move the music to different rooms without having to move the entire setup.
Versatile, lightweight, and user-friendly, these speakers are perfect for every occasion and gathering. The features included in these speakers are
2 pc High-Frequency wireless mic
TWS Function
Recording audio and Delete function
100% Wooden Body
In-Built Hi-Power Battery
2 Pcs Wireless mic
90W – RMS
DSP Effect
AUX/USB/SDMMC/FM
7 Bands Equalizer
Bass and treble adjustable
Karaoke function
2 Microphone input
2 Guitar Input
LED display
Finding the perfect set of speakers for your home DJ set up is elementary to creating and reproducing great sounds and music and to make your investment worthwhile. A bit of research and study will help you in finding the perfect and best DJ speakers for your home DJ set up.
Log on to www.truvison.com to know more about the amazing DJ speakers to take the music experience to the next level.